Whether it's an Office Function, a 50th Anniversary, Surprise Birthday or that "Special Day" for your daughter, Ozzie's has the experience to help create the perfect event. We offer on-site as well as off site catering and with our many years of experience and professional staff, you can rest assured that even the finest details will not be overlooked. Ozzie's will cater any menu on or off site!
As a Full Service Caterer, Ozzie's has served the Berkshires for many years. Whether you need catering for a wedding, corporate event, or private event, we can put the perfect menu together for you. Please contact us today and let us know how we can make you upcoming event a truly memorable one!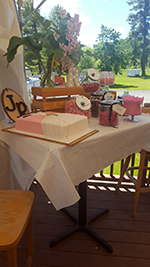 NEW CATERING MENUS FOR 2018 COMING SOON! IN THE
MEANTIME, PLEASE CALL US TO DISCUSS ANY UPCOMING EVENTS.
~ THANK YOU ~

26 Maple Street ~ Hinsdale, MA ~ (413) 655-8309
Open Daily - Except Mondays