Whether it's an Office Function, a 50th Anniversary, Surprise Birthday or that "Special Day" for your daughter, Ozzie's has the experience to help create the perfect event. We offer on-site as well as off site catering and with our many years of experience and professional staff, you can rest assured that even the finest details will not be overlooked. Ozzie's will cater any menu on or off site!
As a Full Service Caterer, Ozzie's has served the Berkshires for many years. Whether you need catering for a wedding, corporate event, or private event, we can put the perfect menu together for you. Please contact us today and let us know how we can make you upcoming event a truly memorable one!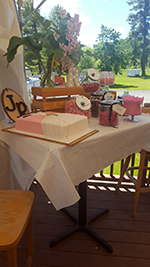 (May We Suggest Appetizers)
Stuffed Mushrooms with Crab Stuffing - $3.25
Teriyaki Chicken Satay - $3.25
Assorted Mini Hot Finger Foods - $3.25
Mini Quiche, Mini Egg Rolls, Etc.
Shrimp Cocktail - $4.00
Scallops Wrapped In Bacon - $4.95
Chicken Wings - $3.95
Antipasto Skewers - $3.25
Cocktail Meatballs - $3.25
Stationary Selection Combinations
Assorted Cheeses, Pepperoni, Kielbasa & Crackers - $2.50
Assorted Vegetable Crudités with Dip - $2.50
Assorted Fresh Fruit - $2.75
Any Combination Of Two Of The Above
(Prices Based On 20 People Minimum)
Family Style Breakfast
Scrambled Eggs, Ham, Sausage, Home Fries, English Muffins, & French Toast. Coffee-Tea-Orange Juice - $16.95 Per Person
Additions:
Turkey Sausage - $3.00
Pancakes - $3.00
Muffins - $2.50
Corned Beef Hash - $3.50
Fresh Fruit - $2.50
Lunch Buffets

Luncheon Option #1 - $12 Per Person
Assorted Finger Sandwiches
Choice Of One: Pasta Salad, Tossed Salad or Macaroni Salad
Chips & Pickles
Luncheon Option #2 - $15 Per Person
Penne With Sauce
Sweet Sausage, Peppers & Onions
Meatballs
Tossed Salad & Rolls
Luncheon Option #3 - $17 Per Person
Grilled Chicken Breast
Roasted Potato
Seasonal Vegetable
Penne With Sauce
Tossed Salad & Rolls
(All Entrees Are Accompanied By: Pasta, Tossed Salad, Potato, Vegetable & Rolls)
Poultry Entrees
Grilled Marinated Chicken Breast - $21.95
Chicken Almondine - $23.95
Stuffed Chicken Breast - $22.95
Chicken Cordan Blue - $23.95
Chicken Marsala - $21.95
Chicken Parmesan - $21.95
Roasted Turkey & Stuffing - $18.95
Pork Entrees
Roasted Pork - $18.95
Stuff Pork Loin (Apple Cinnamon Stuffing) - $21.95
Baked Honey Glazed Ham - $17.95
Seafood Entrees
Baked Haddock with Ritz - $22.85
Baked Haddock Almondine - $23.95
Baked Stuffed Shrimp - $26.95
Grilled Salmon - $22.95
Grilled Salmon with Feta & Tomato - $24.95
Stuffed Salmon with Hollandaise - $24.95
Broiled Scallops - $26.95
Lobster Tail & Grilled Shrimp - Market Price
Beef Entrees
Sliced Roast Beef - $21.95
Prime Rib - Market Price
Beef Tenderloins - Market Price
Beef Tenderloin Charlemagne - Market Price
Mixed Grill-6oz tenderloins & Grill Chicken - Market Price
(Prices on Beef & Seafood are subject to change with Market Conditions)
Surf & Turf Selections
6 oz Beef Tenderloins & Grilled Shrimp - Market Price
6 oz. Beef Tenderloins & Lobster Tail - Market Price
Gianni Versace - Market Price
(Beef, Baby Spinach, Lobster Meat, Portabella Mushroom & Hollandaise)
Side Dish Selections

Potato
Baked Potato
Roasted Baby
Vegetable
Glazed Baby Carrot
Green Beans
Seasonal
Salad
Tossed Salad
*Caesar Salad
*Greek
Pasta
Penne with Sauce
Penne Garlic Oleo
*Penne Alfredo
All Entrees are subject to meals tax and 18% gratuity.
Choose From Half Pan Or Full Pan
Pastas
Half Pan Serves 15-20
Full Pan Serves 25-30
Penne With Meat Sauce - 1/2 $30 ~ Full $55
Penne Alfredo - 1/2 $40 ~ Full $65
Chicken & Broccoli Alfredo - 1/2 $50 ~ Full $85
Chicken Montana Alfredo - 1/2 $50 ~ Full $85
(Chicken, Ham & Broccoli)
Seafood Alfredo Penne - 1/2 $60 ~ Full $90
Macaroni & Cheese - 1/2 $45 ~ Full $85
Lazy Lasagna - 1/2 $55 ~ Full $95
Vegetable Primavera Penne - 1/2 $35 ~ Full $65
Eggplant Parmesan - 1/2 $45 ~ Full $85
Roasted Baby Potatoes - 1/2 $35 ~ Full $65
Mashed Potatoes - 1/2 $40 ~ Full $75
Meats
Half Pan Serves 10-15
Full Pan Serves 20-25
Swedish Meatballs - 1/2 $40 ~ Full $75
Italian Meatballs - 1/2 $40 ~ Full $75
BBQ Meatballs - 1/2 $40 ~ Full $75
Hot Sausage - 1/2 $45 ~ Full $85
(With Peppers & Onions)
Chicken Parmesan - $7.95 Per Person
Chicken Souvlaki - 1/2 $50 ~ Full $90
Chicken DiVinci - 1/2 $50 ~ Full $90
Chicken Marcela - 1/2 $50 ~ Full $90

Beef Tips With Peppers & Onions
* Market Price *
Pulled Pork
1/2 Tray $60 ~ Full Tray $110
Salads
Half Pan Serves 10-15
Full Pan Serves 20-25
Pasta Salad - 1/2 $25 ~ Full $48
Macaroni - 1/2 $25 ~ Full $48
Potato - 1/2 $30 ~ Full $60
Coleslaw - 1/2 $30 ~ Full $55
Asian Noodle - 1/2 $30 ~ Full $55
Three Bean - 1/2 $28 ~ Full $48
Baked Beans - 1/2 $25 ~ Full $45
Tossed Salad - 1/2 $25 ~ Full $50
Greek Salad - 1/2 $30 ~ Full $60
Spinach - 1/2 $35 ~ Full $70
Caesar Salad - 1/2 $35 ~ Full $70
IN ADDITION, WE ALSO HAVE WRAP PLATTERS AND
OFF PREMISE CATERING & BBQ AVAILABLE
PLEASE INQUIRE ABOUT PRICING

26 Maple Street ~ Hinsdale, MA ~ (413) 655-8309
Open Daily - Except Mondays